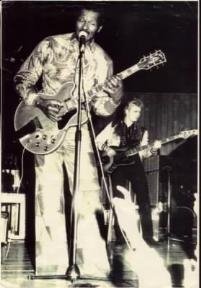 Pete was a founding member of 1970's trailblazing UK rock 'n roll band "The Flying Saucers".
The band relentlessly toured Europe's club and festival circuits and was signed to Alaska, Rockhouse and EMI record labels, releasing several successful albums and singles.
The band was also in demand as backing musicians and Pete played bass for Chuck Berry on UK & European tours.
As the eighties dawned, Pete co-founded 'Alligator Records', giving many emerging bands their first chance to record. Pete also became a long term member of "The Avengers".
In 1988, Pete began working with renowned Nashville vocal quartet The Jordanaires. This led to an association with Elvis Presley musicians, guitarist Scotty Moore and drummer D.J. Fontana with whom Pete toured and recorded with for twenty four years. Many of their collaborations are documented on Scotty's website: www.scottymoore.net including working in Sun Studios and recording at Abbey Road studio for the DVD release 'A Tribute to the King'. The Presley connection continued when Pete performed on tours with James Burton, Billy Swan, Glen D Hardin and recorded with Boots Randolph.
Pete also worked with "Ten Years After" guitar legend Alvin Lee from 2004 until his untimely passing in 2013. With Richard Newman on drums they toured Europe extensively, including a six week UK tour ending at London's Royal Albert Hall. Recording highlights include the critically acclaimed album "Alvin Lee in Tennessee" and a live recording of Alvin's last show recorded in Holland in 2012.
In 2011, while performing in Jackson, Mississippi with Cowboy Jack Clement and Billy Burnette, Pete was inducted into the International Rockabilly Hall of Fame. Click here to view.
In 2015 Pete received a bronze award from 'New York World's Best Radio Programmes' for producing 'Scotty Moore & the Guitar That Changed the World' for BBC Radio 2.
In addition to those already mentioned, Pete has supplied the basslines for: Eric Clapton, Albert Lee, Billy Swan, Steve Cropper, Chris Isaak, Gene Vincent's Original Blue Caps, Cliff Bennett and the Rebel Rousers, Sonny Burgess, Cowboy Jack Clement, Gene Summers, Billy Burnette, Carl Mann, Charlie Rich Jr, JM Van Eaton, Frankie Ford, Linda Gail Lewis, Annie Marie Dolan, Elliott Randall, Darrel Higham, James Hunter, Paul Ansell, Chris Farlowe, Bert Weedon and many others.
Always in demand as a session player, Pete's bass playing can be heard on countless recordings. (Check out the shop page).
In 2015, to commemorate the 60th Anniversary of the recording of 'That's Alright Mama' by Elvis Presley, Pete, along with Chris Isaak and Matt Ross Spang, released a new version of the song on Sun Records recorded at Sun Studio, Memphis, Tennessee.
Pete recently laid down the bass on a historic track called 'Honey Do' featuring the voice of John Belushi and the guitar of Steely Dan guitar genius Elliott Randall. The song was also produced by Elliott Randall.
Pete continues to perform and record with a wide variety of artistes and can often be seen on the road with his own Pete Pritchard Band. Look out for dates on the gig guide and on his facebook page.
The new album 'Making Tracks' is now available. In collaboration with Multi-instrumentalist James Compton and session drummer James Johnston, the album features twelve original songs and was recorded by engineer James Johnston in London at Cow Shed studio, London. The two final tracks on the album were recorded at Sun Studio, Memphis, Tennessee and engineered by double Grammy winner Matt Ross Spang.
Pete's last album "Beat the Blues" is still available on CD and for download.
Website design by Vicky Adeyeri